Services Offered
I can assist you with learning any aspect of the self-publishing process with Individual Coaching Sessions, complete some of the below services for you A La Carte, or assist you through the entire self-publishing process with Full-Service Coaching.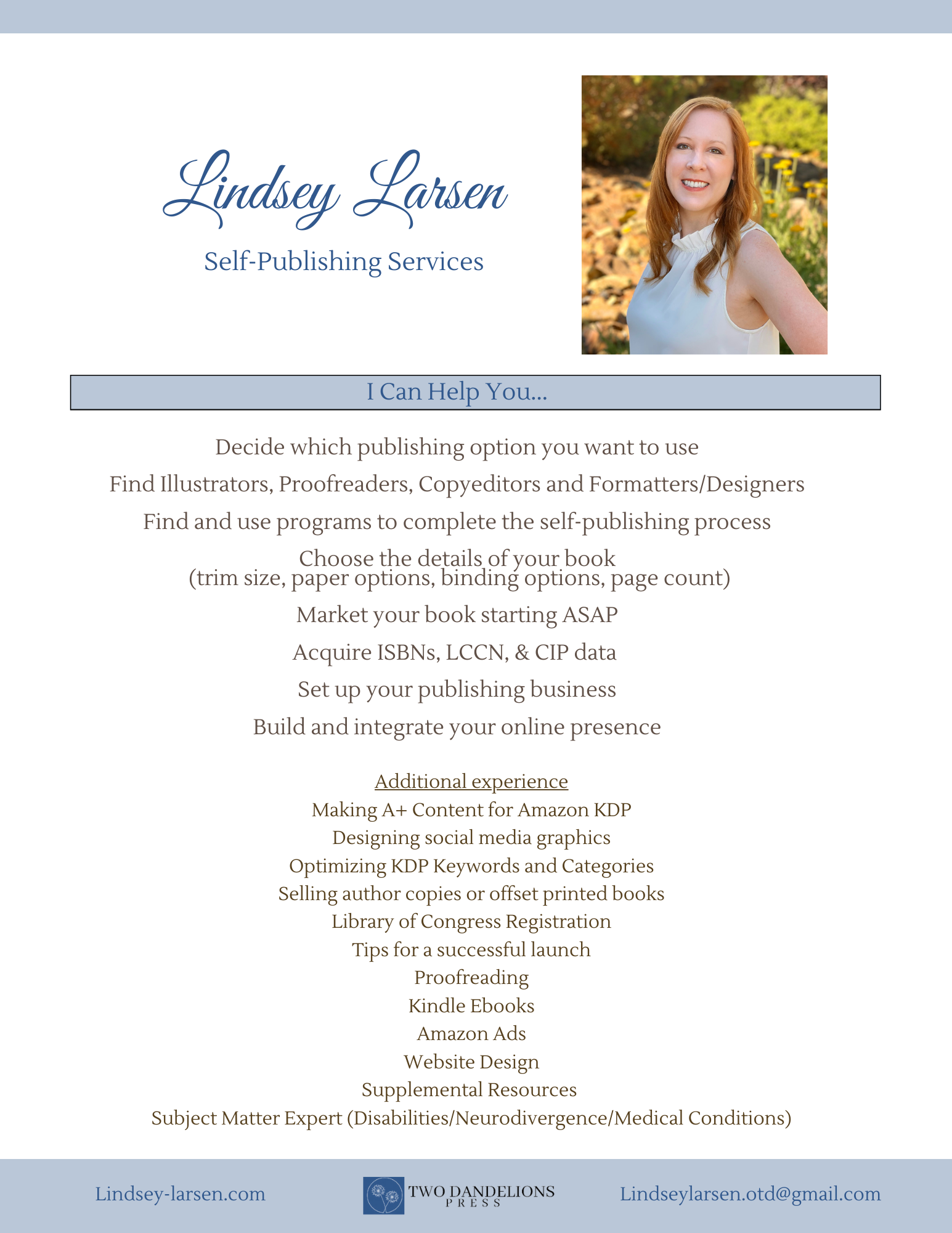 Individualized Coaching - $45 per 30 minute session
Self-publishing coaching sessions are via Zoom

Each coaching session will provide you with enough information to move ahead with your project approximately 1-3 weeks (2-6 weeks for one hour sessions)

Each session includes a follow-up email containing a summary and to-do list with necessary support documents and links.

One to two additional correspondence emails included.
Below are examples of how coaching sessions might look. However, it is up to you what you would like to discuss and what assistance you feel you need!
Example Sessions
Session 1 - Manuscript Review & Book Publishing Options
In this session, we will discuss your manuscript, book publishing options, print options, and illustrator options.
Session 2 - Choosing to Self-Publish
In this session we will discuss what it means to self-publish, importance aspects of your book beyond the manuscript, and building your business and brand.
Session 3 - The Nitty Gritty
This session I will provide you with the necessary videos and links to learn all the systems you will be managing. Lots of learning to come!
Session 4 - Getting Ready to Publish
You've been working hard and waiting for this moment! This session will discuss what to expect when you publish and what steps you can take to maximize sales and visibility of your book.
Session 5 - Marketing, Marketing, Marketing
There are many free and inexpensive ways to promote your book! From social media, to schools, to bookstores, to libraries! I can help you find and create the tools to get your book out into the world!
Book a Session!
Let's Chat and see how I can help you! Book your FREE 20 minute consultation right here on my website!
A La Carte Services - Fees vary
Sometimes it can be helpful to pass certain aspects of the self-publishing process off to someone else. From designing your website, to optimizing your KDP keywords and categories, to creating supplemental resources for your book, contact me regarding your individual a la carte needs.
A La Carte Services include but are not limited to:
Optimizing Keywords and Categories

Proofreading

Create Marketing Graphics for Marketing Materials and Social Media

Writing author bio or book blurb

Creating Amazon KDP A+ Content

Website Design

Supplemental book resources/content (worksheets, lesson plans)
Full-Service Coaching- $2700
If reading this above list of services feels confusing and intimidating to you, and you would like to know you have someone there to help you each step of the way, Full-Service Coaching might be right for you.
With Full-Service Coaching I offer:
Up to one year of support

Individual Zoom or phone coaching sessions as needed (capped at 25 hours)

Unlimited e-mail communication

2 included a la carte services
Start by booking the Free 20 Minute Consultation right here on my website! During the Consultation we will discuss the complete list of services and details. A simple contract between parties will be signed for Full Service Coaching.